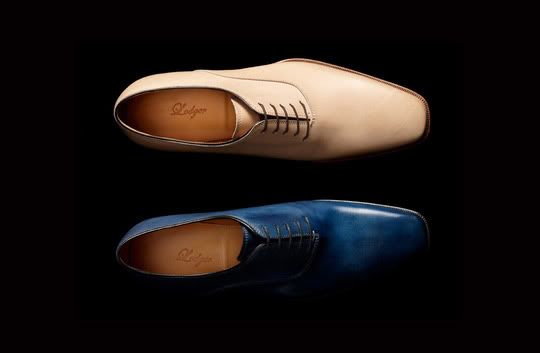 And I thought my Gucci Loafers and Burberry Trench Coat were top-notch...try again.
20LTD
is showing us what quality footwear really looks like, and I must say I like it. These stationed puppies are from Lodger and part of a "20″ edition set of hand painted wrapped whole cut shoes:
"
Though the design is very simple, the 'Wrapped Whole cut' shoe by Lodger of London is extremely complex to make. Fashioned from a single piece of flawless leather, the seam of the shoe is placed asymmetrically on one side as opposed to being more traditionally found at the back. This requires that the leather be stretched in three directions in order to get it to fit around the toe and heel without any additional seams. Customers can choose to have their own pair of these unique shoes hand painted in one of three colours: a rich Oxblood, warm Grey or Azure Blue.