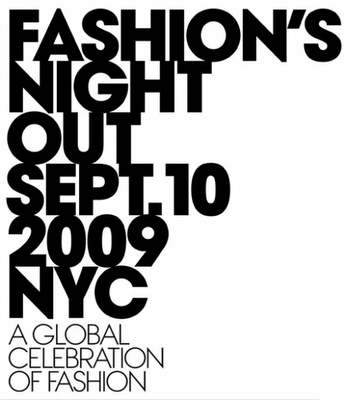 I am completely confident that you have heard of Fashion's Night Out but for those who haven't...where the hell have you been?! I mean, really, its a Global Celebration of Fashion for heaven's sake. American Vogue has joined forces with NYC & Company, the City of New York, and the Council of Fashion Designers of America to liven up the shopping spirit and help boost the crumbling fashion industry. Think of it as a stimulus package for the fashion industry...because in theory that's its purpose, to stimulate the industry that employs thousands of millions of people across the world. Anna Wintour along with dozens of celebrities and designers will be all over the City of New York at local stores, department stores, and all in-between helping to celebrate the fashion industry and encourage buyers to get in the spending mood.
While this sounds like one big orgasmic love fest for any fashion maven there is only one problem...its taking place in NYC. Not to worry, its a Global Celebration of Fashion, thus cities and stores all over the world are participating in their own way...including DC. GWFCC has partnered with DC-area boutiques to create DC FASHION'S NIGHT OUT with similar shopping parties on September 10. More information after the jump.
The GWFCC has partnered with the MidCity Business Association for DC's FASHION'S NIGHT OUT in the U Street Corridor. Such boutiques as Caramel, Lettie Gooch, Palace 5, Redeem, Rue 14, Treasury, Muleh, Junction, Stem, and DEKKA will be hosting their own shopping parties until 10pm or later. Furthermore, all Neiman Marcus stores will participate with designer appearances, trunk shows and other special events. Also, we will be selling an exclusive $30 Fashion's Night Out tshirt and 40% of the proceeds will benefit the September 11 Memorial and Museum. Sounds like a hell of a time! For more information on DC's Fashion's Night Out, visit GWFCC.