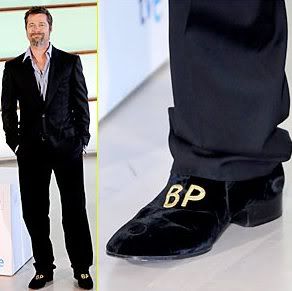 Ive spoken on the trend lightly before, but given our celebrity-obsessed society it seems that people are finally taking notice now that none other than Angelina's other half, father of too many, and owner of the porn-stache(please cut it) walked in front of a bazillion photographers wearing a pair of monogrammed sued slippers.
While attending a photo call for his latest movie, Inglourious Basterds at the Kursaal Palace on Friday (September 18) in San Sebastian, Spain, he caused a chaotic mess for sporting the personalized BP slippers. Haven shown up in Michael Bastian's Spring 2010 collection during New York Fashion Week - here - im not at all surprised that the trend is becoming mainstream. Its already become a commonplace in Europe, so expect to see much much more here in the states.
And District Cut can exclusively confirm that the slippers were given to Brad as a gift from an assistant. An assistant with good taste...keep him around. What do you think of the trend? Hit or Miss?